It all began with the hospital life of my late father who passed away on January 2, 2019.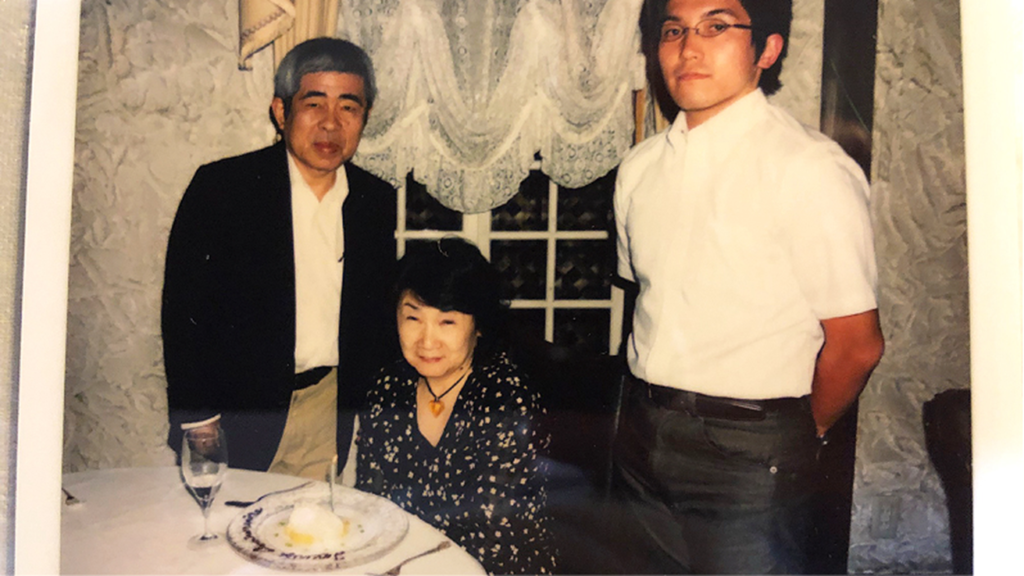 After spending 5 years at a spacious care center, my father was moved to the mental hospital near his house because of the onset of Alzheimer's dementia in November 2017. He spent 13 months there. Due to the words and deeds from his emotional ups and downs as well as the wandering around, the care center was no longer able to take care of him. His relocation to the mental hospital was an unavoidable decision after our family's discussion with doctor and staff members of the care center.
However, there was one regret; his Hospital Wear.
The cold and bland hospital wear given to my father by the hospital looked like prisoner's uniform in my eyes. Even though his cognitive functions were already on decline, I was sad to let him offhandedly put that clothes on. What was more, my mother was a teacher of dressmaking. As a fashion professional, she simply could not stand seeing him in such bad-looking clothes.
Food, shelter, and clothing are the basic needs in life, it may be necessary to embrace some restrictions during the hospitalization. Yet, putting aside the living space and food, I wonder how he could have the freedom of enjoying his 'clothing'.
During the first 2 months, my mother brought the clothes for my father. She had tailored his favorite clothes; a sweater with a widened-open neck which would be easy to change, a front-open buttoned shirt, and a pair of trousers with an enlarged waist which could be worn over a diaper. She brought them to the hospital, then collected them, washed them at home, and brought them back for him, taking two buses and 50 minutes one-way.
One day, a new president came into the hospital, and a letter of 'Introduction of the Rental Hospital Wear' arrived at our house. It said that "Those who do not opt into the renting service are requested to collect and replenish the patient's clothing every day." Needless to say, this was not easy since our house was far from the hospital and my mother was 74 years old.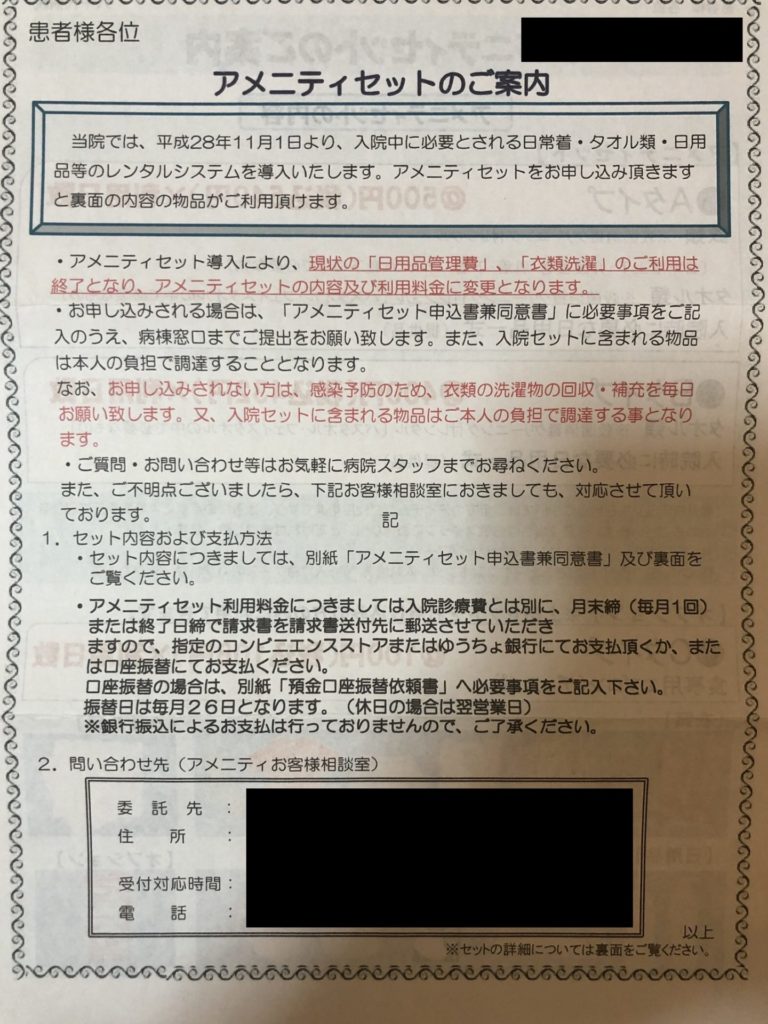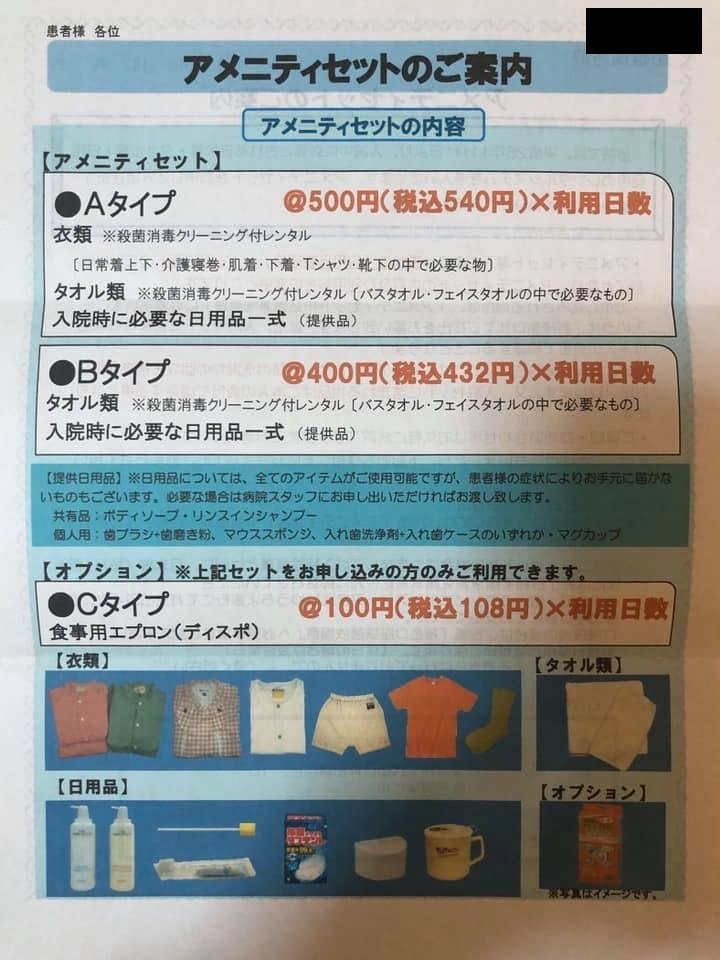 Initially my mother insisted. "I want him to wear what he wants to. The clothes he wore at home will help him get better." I begged her to use the rental service as it would make her life easier. I did not want her to get sick from the overload. She eventually 'gave up,' and along with this decision, her visit to the hospital became half as frequent as it had been.
The hospital clothes were loose beige, Kimono-like pajamas, a front-open shirt and trouser with an elasticized waist. In the dementia ward of the hospital, every patient wore the same clothes every day. From a distance, it was not possible to distinguish individuals. My father had the degree 2 certificate of long-term care need. He was able to change his shirts but needed assistance to change his trousers.
7 months into the hospitalization, his conditions worsened due to dementia besides his existing mental disorder. About one out of three, he was not able to engage in the conversation; he would not recognize me, and he had hallucinations and tried to grab something in the thin air. He could hardly have verbal communication.
As 9 months passed, his symptoms worsened further. He did not recognize my mother or me at all. He was muttering incoherent stories about war-time events and historical figures. At the same time, he lost the ability to swallow food, and the provision of liquid food began.
One month later, my father became unable to swallow even the liquid food. Following doctor's advice, intravenous infusions started to give him sufficient calories and to prevent aspiration pneumonia. Because at this point, using a toilet, changing clothes, and walking became difficult for him, he could not live without caretakers' assistance, including pushing a wheelchair. Our doctor advised us to apply for the degree 3 certification of long-term care need.
At this point, his hospital wear became jumpsuits, with a zipper LOCK at the neck which prevents stripping or scratching. It was as if 'the clothes were locking him up.'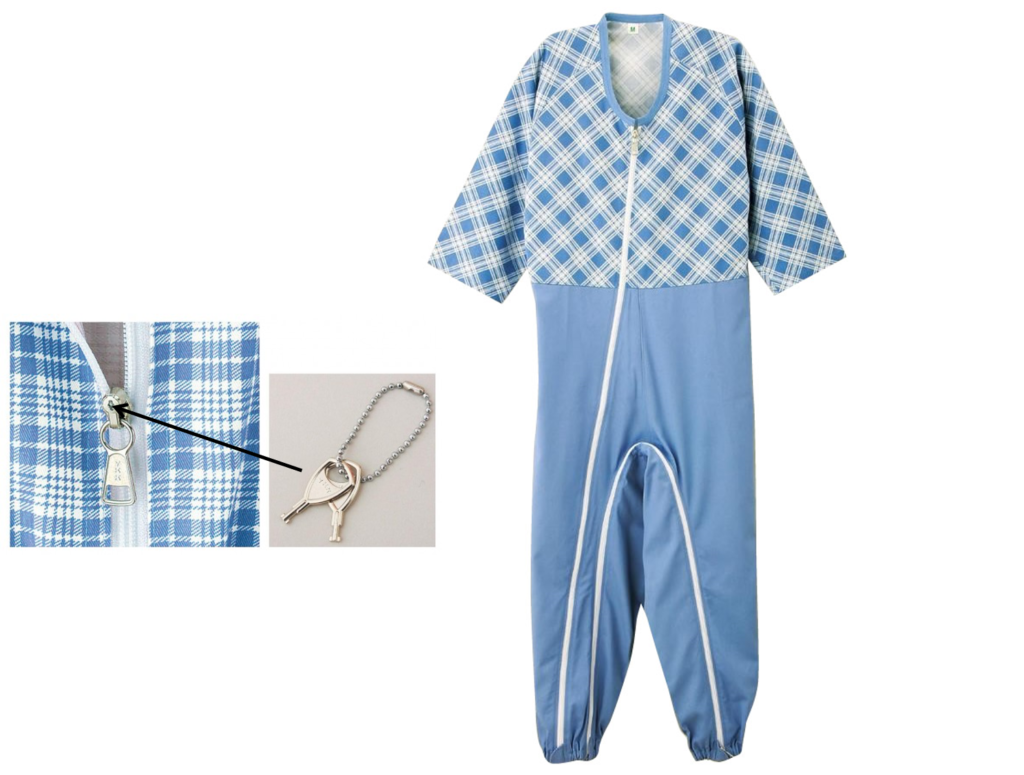 Within three weeks, my father went through an operation for gastrostoma. The doctor told us, depending on how long the brain maintains its functions, his life would be 6 months at longest, and, even with life-prolonging treatment, it will be less than a year during which he would remain in a coma. My mother and I began to be aware that his death was approaching.
Even with his dementia, his inability to engage in conversations, and the footsteps of his death approaching, he was still alive as my father. However, when I saw him confined not only by the jumpsuits, but the drip cables and gastrostomy catheter, a sense of 'giving up' on his life began to grow me.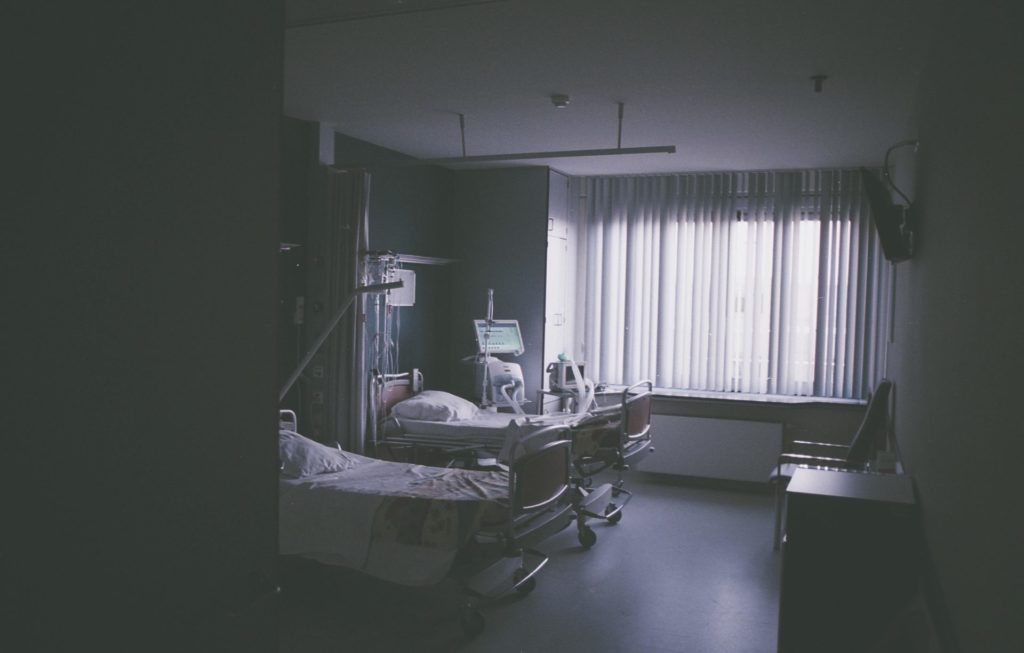 It was on Christmas Eve after one year in the hospital. My father was no longer able to speak and was sleeping most of the time. But every ten minutes or so, he would look into my eyes and make a groaning sound, as if he was trying to tell me something. I felt ashamed, having realized that he had not given up on his life and that it was me who was 'giving up.'
In the meantime, it evoked a strong feeling in me;
"He is still our father, even with the death approaching. Why should the clothes deprive him of his dignity?"
"If he could have worn the clothes as he had at home or at the care center, perhaps we could have slowed down the progression of dementia."
That day, on my way home in Tokyo, I posted an entry on Facebook visible to "only me."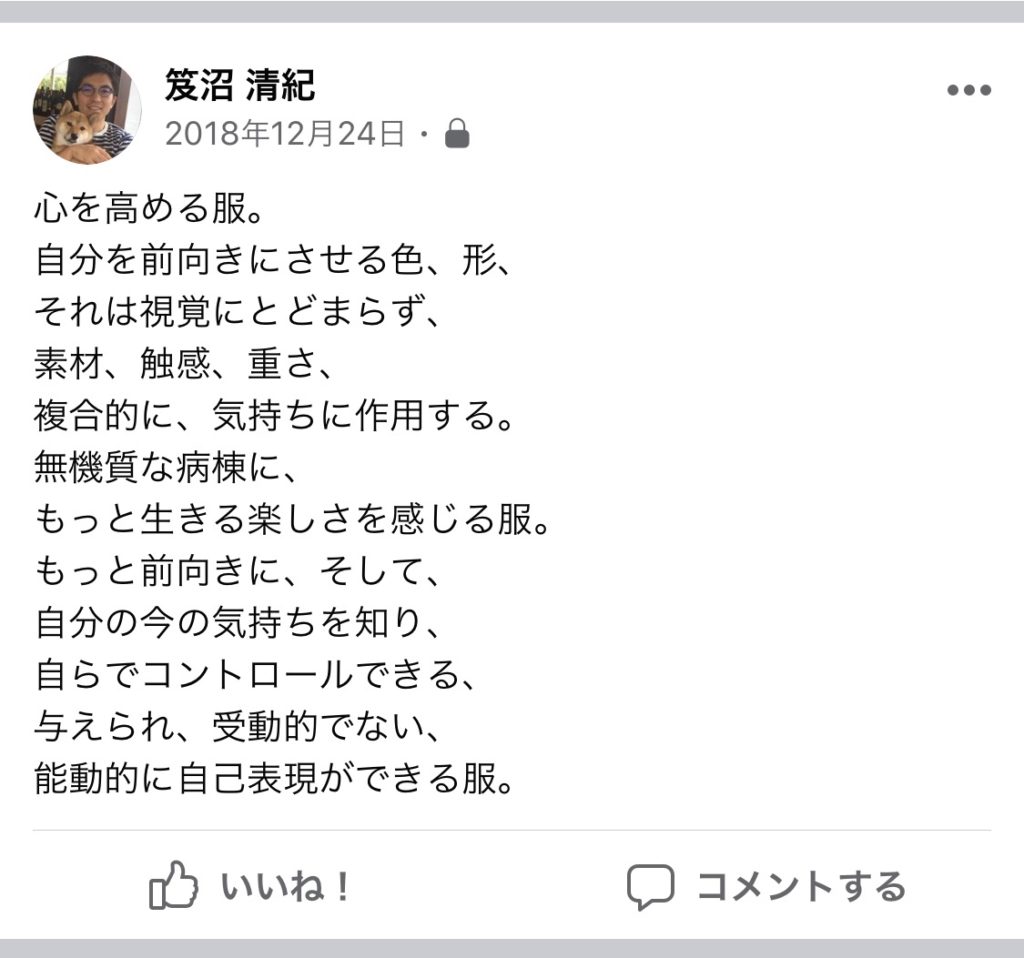 This is where the concept of "Everyone's Hospital Wear" originates.
One week later, on January 2, my father's life ended at the age of 75 on the hospital bed, with his cold and bland hospital wear on.
A bit of side-track, he had been suffering from a particular mental illness for 30 years besides dementia. Although I first came to recognize it as a disease when I was in the second year of high school, I was not able to embrace him as my father since my adolescence. We had a relationship which was hard to express in words for a long time.
However, during 5 years of his time in medical care, particularly after 10 months of hospitalization as I mentioned above, there was a shift in my perspective towards him. No matter what happened for a period in history, he had taken care of his family in the war-time and postwar Japan and had supported me through college. I felt a sense of respect and gratitude for my father.
Further change happened after his funeral and the seventh day ceremony was over.
Having reflected on my own past, it became clear that the motive of my hard work since the graduation from college was to contribute to my family, supporting my father and making my mother's life easier. As I lost the motive, I decided to explore these simple questions; "What is keeping me alive? What should I achieve in life?"
My thoughts about the hospital wear lingered with me even after my father's passing. "Is this just me?" I wondered, "Or, are there others who felt the same way after the hospitalization and death of their family or through their own experience of being hospitalized?" Expecting to get the hints to my own inquiry in the process, I deliberately began to take action.
First, I conducted interviews with my friends and acquaintances as well as those who I came to know through the care center. As a result, it turned out that many were dissatisfied with the hospital wear and had the same questions as my family did. Particularly, 80 percent of women were highly dissatisfied.
"Bad colors"
"Lack of choice"
"Clothes make them aware of the illness"
"Not wanting to see others"
"Loss of changes in day-to-day life"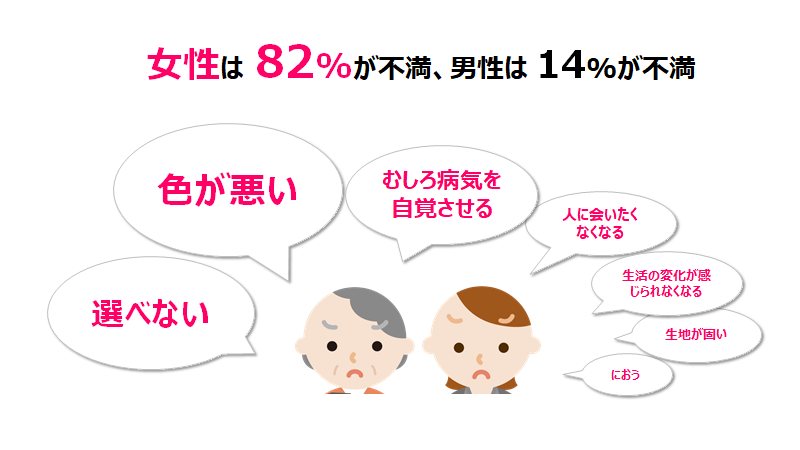 Then, I looked for and purchased hospital wears all around Japan and from the world through the Internet. Yet, I found nothing I would want.
In fact, when I searched by keywords such as hospital wear, patient pajamas, and patient clothing, all I found were jumpsuits, pajamas, and gowns. The colors were mostly blue and green.
This is why I decided to produce our own. Together with my mother, dressmaking teacher, and friends who have experience in hospitalization, care-taking, and dressmaking, started on the brandnew hospital wear design.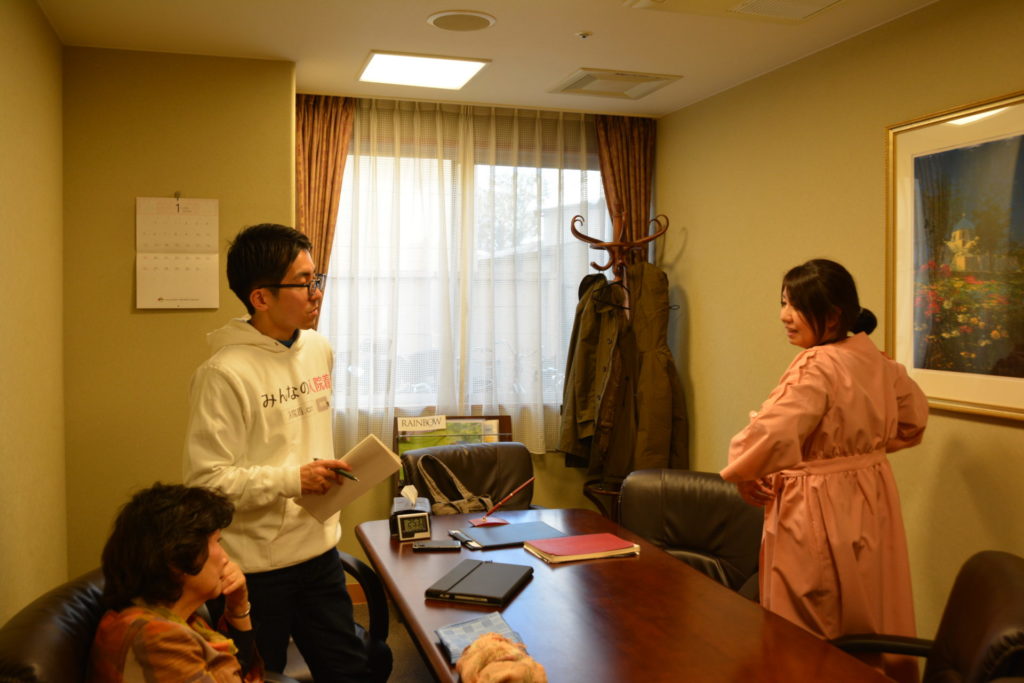 Our desired hospital clothes fulfil the functional needs of the medical staff and caretakers while making patients feel optimistic and excited to see others. They should be what our family and friends feel happy to gift to their important ones along with get well wishes.
Concept of "Everyone's Hospital Wear"
Dress like yourself,
Even if you are in the hospital,
With comfortable texture and smart functionality,
Our well-designed, beautifully colored hospital wear
Will make you happy to see the ones you love.
Passion
While the conventional hospital clothes heavily focus on the material cost, durability, and sanitary needs, they ignore users' emotional needs, such as "the joy of choice and self-expression," which are the values that clothing should essentially entail. Meeting these fundamental human needs help patients feel positive and vibrant in the environment with a lot of restrictions. Moreover, if the patient's family may think that "they lived a life of their own until the last moment," it may help lighten the regret that fills their hearts when the patient passes away.
Japan is an advanced country in terms of the aging population. Through the hospital wear that enriches the mental and physical life of the elderly and their family supports hospitalized life with dignity, "Everyone's Hospital Wear" strive to turn the challenges such as elderly care, battle against disease, and terminal care into positive experience.